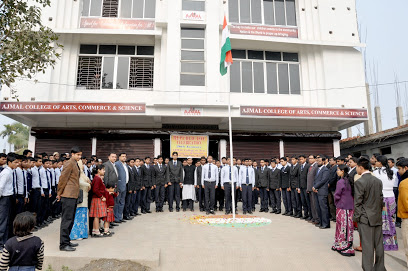 AJMAL College of Arts, Commerce & Science, Hojai, a well known name of Assam in the field of education, was established in 2010 with 110 students, in a self-contained campus with all necessary infrastructural facilities. Situated.on Main Road, Hojai, the college is run by AJMAL Foundation, a well-known NGO whose motto is serving humanity in need. AJMAL College of Arts, Commerce & Science, Hojai was established to reach out to the youth and to provide the highly talented and capable young minds of the region with a platform to fulfil their life's aspirations. We have in place a strong infrastructure and fresh teaching methodologies to keep our students abreast with the fast changing and competitive world. In the years to come, we foresee AJMAL College of Arts, Commerce & Science, Hojai, as one of the leading colleges of Assam and our students as the forerunners of a successful nation. The college is day-cum-residential and provides congenial hostel environment and value based education to the students. The College not only concentrates on the higher secondary syllabus but also prepares the students for various all India entrance examinations for the graduate/professional courses as mentioned below:
SCIENCE : JEE (Mains & Advanced), NEET, ASSAM CEE.
ARTS & COMMERCE : Tata Institute of Social Science, CLAT, CPT, BBA, BBM, BCA, FCE, Mass Com & Journalism.
SALIENT FEATURES OF THE COLLEGE
Quality and Value Based Education.
Competent and Committed faculty.
Latest Technology-Aided Learning.
Scholarship for Deserving but Meritorious Students.
Congenial Environment in Hostel as well as College under Teacher's Guidances.
Soft Skills Training and CCA Classes.
Well Equipped Library and Computer Lab.
Regular Visit to Day-Scholars' Home.
Regular Coaching and Remedial Classes.
Personality Development Sessions.
Monthly MCQ Test.
Individual Attention and Constant career Guidance.
Career Counselling in collaboration with leading organisations like CEC Delhi & IEF Noida.